I want to remind you all that today is Sarah's Super Ustream! Yay for new stamps! Also don't forget she will be telling us all who the new additions to the Design Team are.
Here is the link to the Ustream: Which starts at 7:00 PM CST
Here is my super sneak for you today!
You could'nt see the glitter in his wings so here's a different picture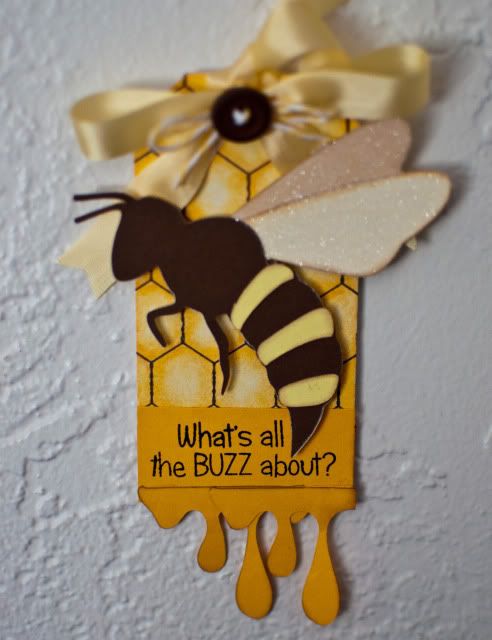 Now one of these is a sneak peek! But I can tell you about the background stamp I used.
I colored in the background stamp using my Prima Colored Pencils. I have never colored at all! So I watched The Fab Paula's video on how to do this! Thank You Paula!
So even tho this is a chicken wire background stamp I think it works perfectly for the honeycomb effect! The Bee and the Honey Goo is from the Cricut Cartridge " Everyday Pop Up Cards ". I had to glitter the bee's wings cause right now I'm going through a faze where everything looks better with glitter :) I used Martha Stewart Fine Crystal Glitter.
The Ribbon is by Martha Stewart, and do we ever honestly keep track of our buttons LOL? To finish off the button I used some Lemon Divine Twine.

I hope to see you all at Sarah's Stamp Release tonight!
Have a wonderful Friday :)