Hello Friends,
Today I have a quick fun project to share with you using a paper bag, paper, and your favorite Pink By Design Stamps. I grabbed some paper bags at Michael's the other day in hopes to make a mini album. I paid 2.99 for a bag of 20, but I think you can find them cheaper or at a higher quantity at Walmart or Target. All paper used on this card is from the Cosmo Cricket " Wanted " Paper Stack.
Now onto the project :
To Start off I folded the bag in half, and basically just cut the paper a quarter of an inch smaller than the dimensions of the bag. I stamped
Pink By Design's " Newsprint " Background Stamp
ontop of the base layer of the card. I added another belt layer to the card to give it more depth. I stamped " Dad " using
Pink By Design's " Banner " Alpha's
that come with the image set. Of course I had to ink all the edges with Catseye chalk ink in cocoa and black. Because this is a Man's card I didn't want to bling it up to much, so I just added some Recollections black pearls.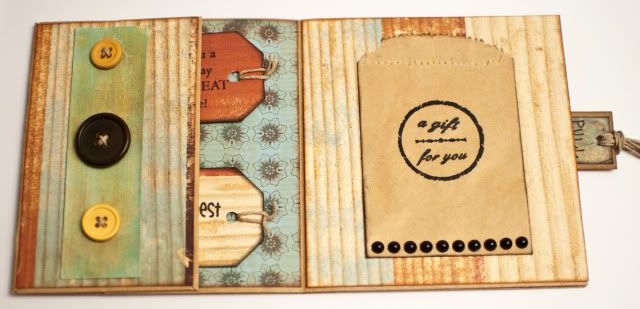 All the same layering techniques that were done on the outside were applied to the inside. I added some tags to the automatic envelope the paper bag gives you!
I added a small paper bag on the inside, perfect for a gift card. I don't have a gift card yet, so my Costco card will have to do :) I added more inking to the edges of the small bag and stamped the center using
Pink By Design's " Labels " Stamp Set
. Of course the bottom of the little bag needed something so I added the rest of my black pearls. The opening of the bag creates another fun little pocket. Perfect for maybe a hidden gift, or like what I did, a place to for my kids to write a note to there dad. The larger tag was stamped with
Pink By Design " Vintage Elements " Image Set
, along with
Pink By Design's " Our Father's " Stamp Set
. I added a small pull tag with some more beading twine.
I wanted to bring your attention to this small detail I skipped over. For this little effect I took a piece of the same cardstock I used for the card and used some Tim Holtz Distress Crackle Paint in Picket Fence. I let it dry then dabbed it with Tim Holtz Frayed Burlap Distress Ink. I heat dried that with my heating tool, then applied another coat of the same Distress Crackle Paint. And lastly I dabbed Tim Holtz Broken China Distress Ink. I like that it let the frayed burlap and the original cardstock bleed through. Gives it a more rustic MAN feel. I finished the card with some buttons.
I hope you enjoyed today's project and I would love to see you all create a paper bag card, and share it on the Pink By Design Message Board!
Have A Wonderful Thursday,